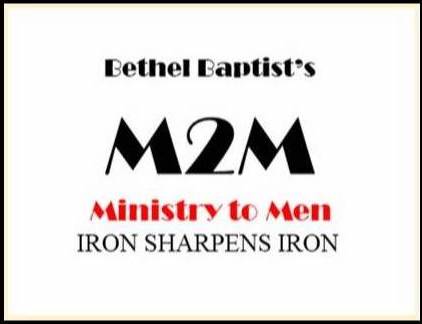 Welcome to Ministry to Men
Bethel's Ministry to Men believes in men discipling men. We do this by building relationships through 4 main events a year, study groups, and missions projects. Our purpose is to build strong christian leaders in homes, churches, and communities. 
We get them in! Get them healthy! Get them strong! And get them going!
Eric Johnson and Fred Lane
"As iron sharpens iron, and one man sharpens another."
Proverbs 27:17
Ongoing Studies
Monday Evenings at 7:00 pm
via Zoom
Victory in Spiritual Warfare
In this timely, unique exploration of spiritual warfare, Dr. Evans unveils a simple yet radical truth: every struggle and conflict faced in the physical realm has its root in the spiritual realm. With passion and clarity, Dr. Evans demystifies spiritual warfare so that readers can tackle challenges and obstacles with spiritual power and God's authority as they:
–Understand how the battle is fought by Satan
–Actively use the armor of God
–Find strength in prayer and sufficiency in Christ
–WIN over chemical, sexual, emotional, relational, and other strongholds.
Battle Plan of Prayer
Starts July 12th
Develop a deeper walk with God as you seek the Lord for your battles first. The Battle Plan for Prayer Bible Study equips believers to create their own prayer strategy and be specific and strategic in prayer. This study features teaching by Alex and Stephen Kendrick on the topics of what prayer is and is not, why God wants us to pray, specific areas of prayer, specific strategies for prayer, and more!
Saturday Mornings at 7:30 am
The Prodigal Son

Begins May 1st
Two thousand years ago, Jesus told a simple story about a father and his two sons. This tale stands out because it is a story about each of us and our struggle with sin. Whether we identify with the rebellion of the younger son or the self-righteousness of the older brother, we all are in need of our Father's grace, mercy, and forgiveness.
In this five-session video-based Bible study, pastor and bestselling author John MacArthur provides fascinating new insights into this parable as he takes you step-by-step through each part of the tale. You will explore not only the shocking actions of the younger son in his rebellion but also the coldhearted attitude of the older brother toward his family. You will find a reflection of yourself in each of these two sons—and come to understand, in a fresh and new way, what God does to find you where you are and bring you back to Him.
Kingdom Man

Begins June 12th
You were created for greatness. In this six-session group Bible study, pastor, and author Tony Evans challenges men to recognize and claim the standard of greatness that God has set forth in His Word. You will learn what it means to be a kingdom man who accepts responsibility for his domain of influence. Step up and claim your destiny as God's Kingdom Man.
Session 1: Wanted: Kingdom Men
Session 2: Greatness Is Your Destiny
Session 3: Claiming Your Territory
Session 4: The Life of a Kingdom Man
Session 5: The Home of a Kingdom Man
Session 6: The Influence of a Kingdom Man